Contact Us
At David Austin Roses we're committed to helping you through every stage of growing roses – from selecting the right variety to giving your rose the care it needs to thrive. If you're ready to buy or need more help, talk to one of our friendly rose experts.
General Enquiries
Our friendly team of rose experts are here to help with all your rose care questions. Please call them on:
0044 1902 376373
FRANCE (appel gratuit) 0800 90 83 40
GERMANY (kostenfrei) 00800 7777 6737

To reach our dedicated French and German speaking rose experts call:
+44 1902 376 370 (French)
+44 1902 376 371 (German)
Alternatively, please send us an email to:
Address: David Austin Roses, Bowling Green Lane, Albrighton, Shropshire, WV7 3HB, UK.
Message Us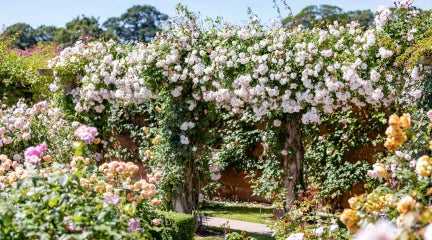 Rose Gardens & Plant Center
OPEN DAILY 9am- 5pm FREE ENTRY
0044 1902 376373
Visit our stunning three acre rose garden in Shropshire, UK – considered to be one of the finest rose gardens in the world. Choose from over 400 different rose varieties to take home. Enjoy dining in our Restaurant or Garden Tea Room and browse our beautiful gift shop.
Visit david austin UK
Have A Question?
FAQs
We may already have the answer. For a list of helpful questions we've been asked many times in the past...
View FAQ's
Other Contacts
For a full list of David Austin Roses contacts click here.